A new deck designed and installed for the perfect outdoor living space.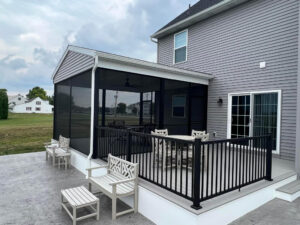 Decks allow you to spend less time inside and more time outside. The expert deck builders from Evergreen Custom Carpentry in Lancaster, PA can handle the entire building process from ensuring the correct permits are in place to footers to the final screw.
Choosing the right deck materials for your home.
With so many varieties of wood and stain combos, and the choice of composite decking material, you are bombarded with a lot of options. We'll design and install the deck that meet the need for your home. We also love taking your deck a step further and make sure you have the best complimentary railing in place. Evergreen Custom Carpentry is the deck builder you are looking for to take your outdoor living to the next level.
Take the stress off trying to do it yourself and let us help with your next project, large or small!
Photos from some of our recent deck installations
Contact us for a free estimate to build your new deck.